Delivery Worldwide On Many Products

Click here for more info (Exclusions Apply)

PAGUE EM ATE 12X

Parcele em 12x em R$ no Brasil
---
Suhr Custom Modern HSH Trans Amber Burst
$4,053.85
Friedman Vintage-S SSS Pau Ferro Sonic Blue
$2,899.99
PRS Custom 24-08 10-Top Charcoal Purple Burst
$4,280.00
Suhr Custom Classic Antique T Heavy Aged Sunburst
$3,799.99
---
---
---
---


---
Strymon Volante Echo Machine Delay Pedal
$399.99
JHS Morning Glory Overdrive Pedal
$199.99
Morgan Pedals Overdrive Pedal
$179.99
Wampler Pinnacle Overdrive Pedal
$199.97
Bogner Ecstasy Blue Mini Overdrive Pedal
$199.99
JHS Pulp-n-Peel Compressor Pedal
$229.99
---
---
---
---
Friedman Runt 20 Combo Amplifier
$1,499.99
Fender Bassbreaker Combo Amplifier
$809.99
Friedman Small Box 50w Combo Amplifier
$2,999.99
Tone King Gremlin 5w Combo Amplifier
$1,295.00
PRS Archon 25w Combo Amplifier
$1,369.00
Morgan MVP23 23w Combo Amplifier
$1,699.00
---
---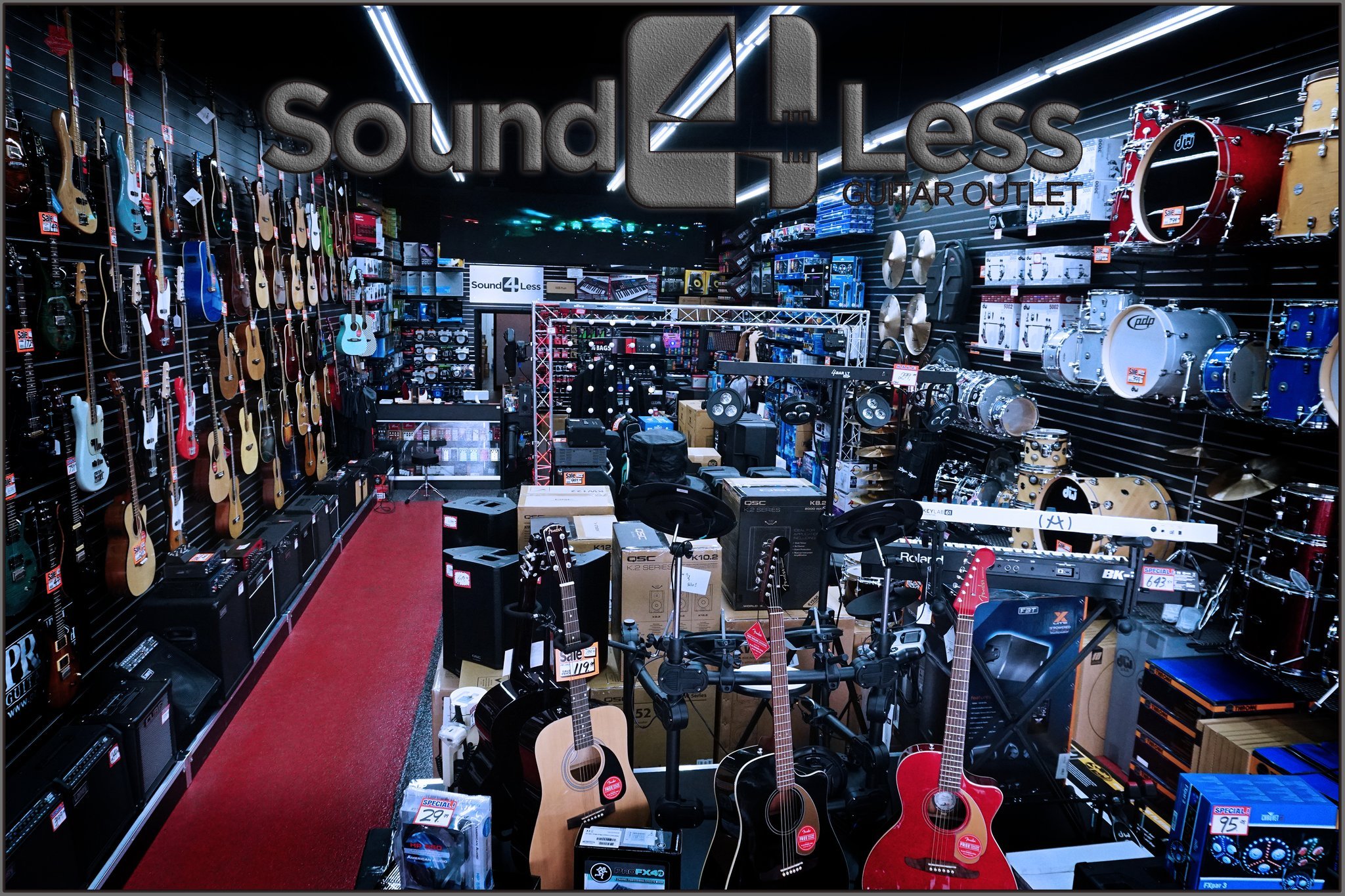 Sound 4 Less is Central Florida's newest and most exciting music store around. We offer the very best products at the best prices and continue to strive to offer the best customer service around. Centrally located in Orlando at 5563 International Dr, right by the Premium Outlets we offer services to everyone from the very beginner picking up their first instrument, to a touring musician needing to pick up gear for their next gig. Inside our Collection Room...
---
Awesome place! Saw the sign and pulled in 'cause I just had to! Nice freaking store! Very nice gear and very friendly staff. Great selection of stuff from pedals to amps and other gear. One of my new go to places for stuff going forward. Do your guitar soul a favor and check them out!
Inhannibal Barca
The staff was very friendly and helpful and the selection of guitars and amps was incredible. They also have the best selection of in stock pedals and pickups of any store I have ever been in. I will definitely be back and will also tell others about this amazing store.
Sergio Jardon
          Thank you so much. I love the guitar. You guys were amazing. Great communication, fast shipping, and excellent product description. I would happily do business with you again.
Paulo Saraiva
Great experience! This seller pays attention to details and goes that extra mile for their customers. Great high end PRS Santana Retro with beautiful color scheme. Thanks!!!
Andrew Marussich
---
---
HOURS & LOCATION
5563 International Dr
Orlando, Florida 32819
Mon - Sat, 10am - 7pm
Sunday, CLOSED